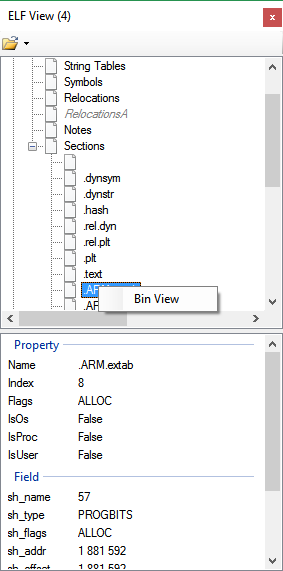 As part of the project to read the contents of the APK file, several plugins were implemented to read commonly used file formats inside the APK archive. Total parsed formats: Davlik (.dex), ELF (.so), and JavaClass (.class).
This plugin is a visualization of the result of the ElfReader build, the source code of which is available on GitHub. The plugin interface is available in the menu: View→Executables→Elf View.
After the COFF executable file format was no longer enough for the development of operating systems, the 2 most significant executable file formats evolved: Portable Executable (PE) and Executable and Linkable Format (ELF).
All sections of the executable file can be viewed in their original form as an array of bytes. And for sections: String Tables (.dynstr, .shstrtab), Symbols (.dynsym), Relocations (.rel.dyn, .rel.plt), RelocationsA (.rela) and Notes - separate visual representation available.
Settings
MaxArrayDisplay

10

— Maximum arrays visualization.
ShowAsHexValue

False

— Display digits as decimal or hexadecimal.
MonitorFileChange

False

— When updating a file on the hard disk, the file will be automatically updated in all open windows for displaying data from the current file.
External methods
Type GetEntityType() — Returns type ElfReader
Object CreateEntityInstance(Object filePath) — Create instance of type ElfReader transfer as an argument path to file
String[] GetSearchObjects(String folderPath) — Get array of files with *.so extension.